The game plan that you need to follow to actually get the results you desire.
There are 2 main components: Your Nutrition plan & your Workout plan.
Your Nutrition Plan
All of the nutrition resources with Built By Plants will help you lose fat and reach a fit, lean, healthy body. So, which one do you start with?
We recommend starting with the Fat Loss Blueprint: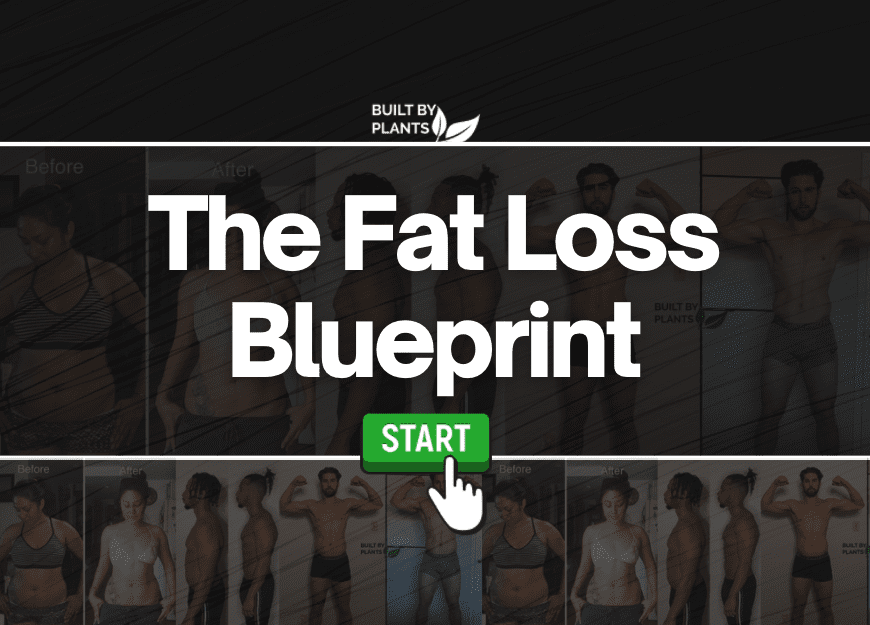 At Built By Plants, we like to have our Oreos and eat them too…
With all of our nutrition strategies, you'll realize that they all are based around the fact that your diet is supposed to sync into your schedule and lifestyle, not be the other way around…
You'll learn that you can go out with friends & fam to enjoy yourself, have some drinks (we have a guide for how to do all that in the Game Plans section under the Nutrition tab), or have "cheat FUN meals"…
You'll learn how to navigate every life situation in a way where it doesn't cause you to fall off with your diet and realize that losing fat while enjoying yourself can happen at the same time.
The Fat Loss Blueprint is the place to start to get your nutrition plan set up initially.
You have access to the BBP Nutrition Calculator. This tool will help you find your starting nutrition targets to get started faster…
You'll also find a number of videos on more of the specifics of nutrition and fat loss under the Nutrition section… They're all short, educational videos that are definitely worth a watch to learn how all this works with a little more depth.
Your Workout Plan
Now that you have the steps on your Nutrition (which is to go through the Fat Loss Blueprint program), we have to pick which workout plan you'll be following.
When it comes to your workouts, we have a number of options that you'll find helpful – and which program you choose is all based on a few factors:
Equipment – What do you have access to? (bodyweight only, full gym, dumbbells, or exercise bands,)
Frequency – How many days per week can you or do you want to workout?
Difficulty – we have programs for all levels (beginner, intermediate, and experienced)
To start with, I'd select one of the workout programs from our Fundamental Routines. These include:
RWP (our signature Men's gym program)
FLC (our signature Women's gym program)
The Body Rebuild (if you have nothing except your own bodyweight)
DB Rebuild (if you have just dumbbells and a bench)
Every workout program is designed to be strength-training focused and includes 3 workouts per week. I breakdown the details and explanation of the Why behind this style of training in the programs.