High Protein Vegan Burrito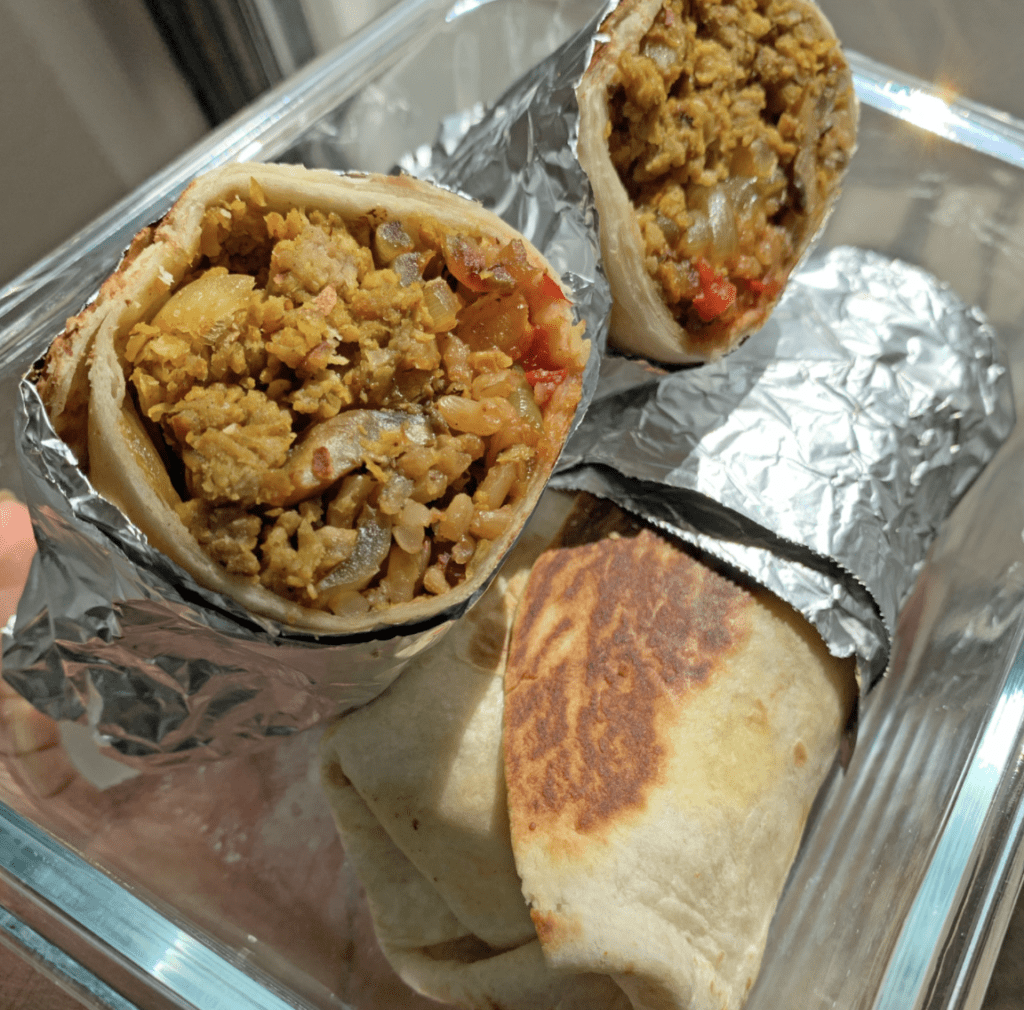 High Protein Vegan Burrito
Vegan Burritos are a popular meal-in-a-tortilla that's filling, healthy and perfect for your busy life. They are ideal for eating at home, on the go, at work, or at school lunches as they transport well. There are a ton of filling options that you can wrap up in a tortilla from a simple black bean & rice burrito to burger burritos to lentil burritos. There are a few components that go into vegan burritos, which you'll find above and the more of them you use the more "full" and delicious your burrito will be. We always make sure to use a protein, beans with onion and tomato, cooked brown rice, salsa, guacamole and either vegan sour cream or cheddar cheese.
Nutrition Facts
Calories:
475
kcal
Carbohydrates:
60
g
Protein:
43
g
Fat:
7
g
Ingredients
Burritos
3

tortillas

Xtreme wellness! Tortilla wraps by Ole

114

grams

Mindful chicken sweet earth foods

A protein of choice (Seitan, Tofu, Tempeh, Or whatever vegan protein source available in your local area)

40

grams

Black beans

25

grams

sweet corn kernels

fresh, frozen, or canned

50

grams

Yellow Onions

50

grams

baby Spinach

35

grams

Chili Garlic paste

20

grams

mushrooms

20

grams

serrano peppers

optional
Seasonings
30

grams

Avocado

1

tbsp

Sazón Goya or Cajun Spice Mix

optional

1

tbsp

pink salt
Instructions
Burrito Filling: Rinse and drain the black beans, and prep the rest of the burrito ingredients. Chop the lettuce, dice the tomatoes, mash the avocado, slice the green onions, and warm the tortillas.

Assemble the Burritos: Lay one large tortilla on a cutting board or flat surface, and spread a layer of mashed avocado in the middle of the tortilla. Add a scoop the sautéed spinach, onions, mushrooms on top of the avocado. Then add a spoonful of seitan/tofu, black beans or lentils, diced tomatoes, and sliced green onions. Drizzle ½ tbsp of hot sauce over the burrito.  

Seal the Burrito: Fold both ends of the tortilla in towards the center and then roll up from the bottom. Hold both sides securely while you roll and finish with the seam on the bottom. If you'd like to seal the burrito, you can put the burrito (seam side down) into a large pan over medium heat and let it cook for a few minutes. Wait until the sealed side is golden brown and crispy and then enjoy it hot.