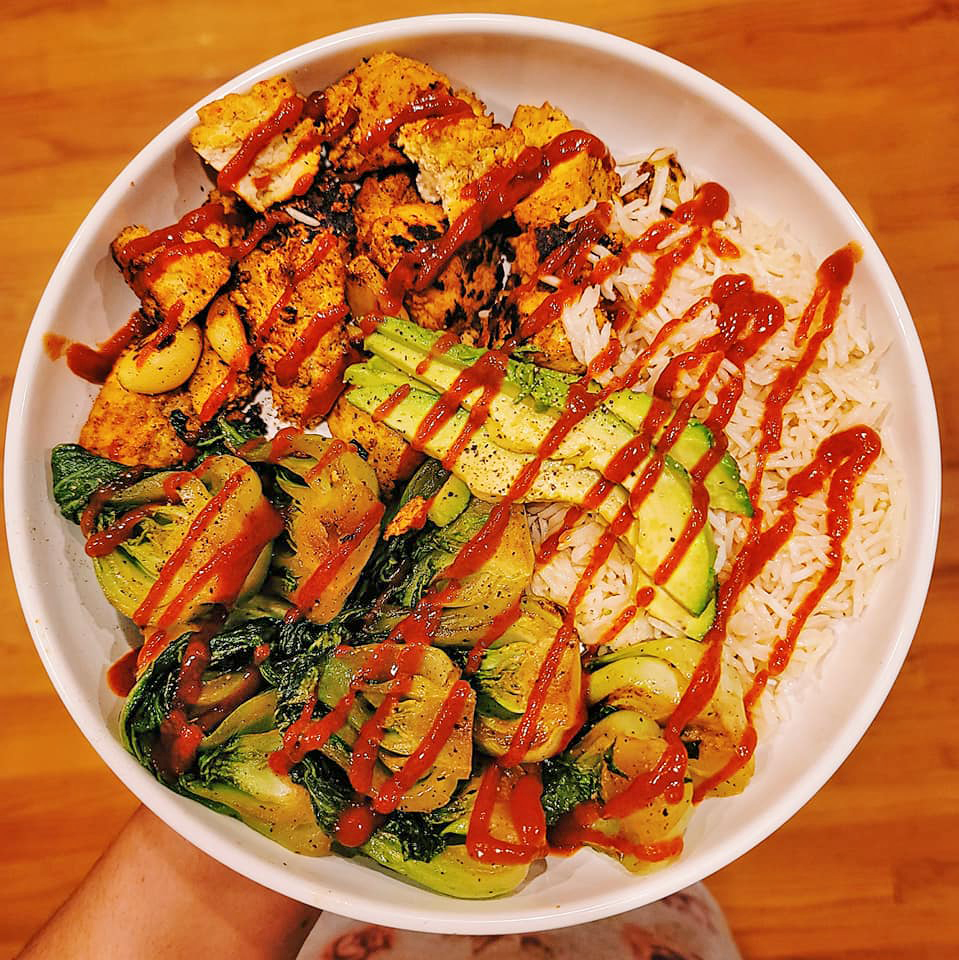 Chik'n Tofu & Rice
FROZEN TOFU
Freeze your tofu over night IN ITS ORIGINAL CONTAINER. Let it thaw out in warm water. Once its thawed out its the most AMAZING texture
Freezing tofu gives it a chewier texture in addition to increasing its ability to absorb marinades!!
Easy way to make this work: At night, put tofu in the Freezer, in the morning before you leave for work, put it in a bowl of warm water, and when you get back home, VIOLA!
Check out this dinner video on how to prepare it and tell us what you think!
Nutrition Facts
Serving:
1
g
Calories:
654.2
kcal
Carbohydrates:
106.2
g
Protein:
30.5
g
Fat:
13.2
g
Saturated Fat:
2.1
g
Polyunsaturated Fat:
4.4
g
Monounsaturated Fat:
5.4
g
Sodium:
217.5
mg
Potassium:
1477.9
mg
Fiber:
9.4
g
Sugar:
6.9
g
Vitamin A:
5044.9
IU
Vitamin C:
72.9
mg
Calcium:
225.6
mg
Iron:
6.3
mg
Ingredients
220

grams

Extra firm Tofu

(Chopped) Use an alternate Protein source if you prefer

120

grams

brown rice

cooked

100

grams

Bok Choy

sautéed or your preferred veggie

40

grams

Avocado

75

grams

mushrooms

Use whichever mushrooms you prefer
Optional Ingredients
1

pepper

Jalapeno pepper

45

grams

Tomatoes

20

grams

Sriracha
Instructions
Break frozen tofu apart and cook in skillet with a low to zero calorie cook oil spray , then add preferred seasonings. (ex. pink salt, sazon, cumin, pepper)

Cook bok choy as shown in the video

Heat the rice up in microwave.

Place each ingredient next to each other in a bowl. (add some fun sauce to it if you like, sriracha is yummy.)