The Vegan Bomb Protein Salad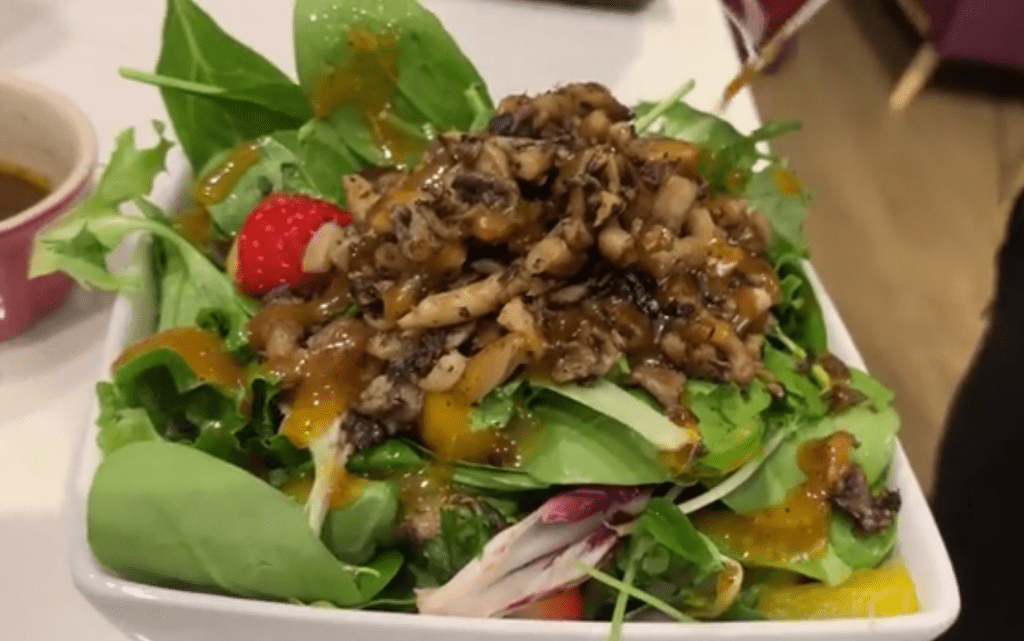 The Vegan Bomb Protein Salad
The Vegan Bomb Protein Salad: USE ANY BRAND that is available to you, doesn't need to be from specific stores or specific vegan brand. Any Vegan Brand you prefer is fine 🙂
Nutrition Facts
Calories:
267
kcal
Carbohydrates:
27
g
Protein:
33
g
Fat:
3
g
Ingredients
3

cups

arugula

3

cups

baby spring mixed greens

1

cups

Cilantro

100

gm

Green, Red, and/or Yellow bell peppers

0.5

cups

serrano peppers

5

grams

balsamic vinegar

114

grams

Vegan Chicken Seitan by Natures Soy

2

tsp

Pink Salt
Instructions
Get a large bowl, add leaves first, then add all the other vegetable ingredients. Do not add, oil, balsamic, cheese or avocado. Add the sprouts or microgreens on top

Take a large saucepan, add 6 grams of oil and heat on medium.

Add chopped onions Add salt and pepper to taste. Add ¼ teaspoon of turmeric. Stir until seasonings are all mixed in.

Let sit until browned on one side, stir and let sit until browned. Once done, place mushrooms in a bowl and set aside.

Prepare your seitan however you like based on which one you have purchased. I suggest chopping them and mixing it with your sauteed mushrooms! YUMMM

Now put your salad to fit your container from the bowl of mixed vegetables and leaves.

Mix olive oil, balsamic, pepper together and drizzle over the salad. Sprinkle pink Himalayan salt and pepper over the entire dish.